Once reports are compiled, the One45 system will send you a notification email that your report is ready for viewing. Click on the enclosed email link, log in, then proceed to your To Do's page in One45. Please ensure that your current email is updated in your One45 profile.
Step 1:
The email notification will read as follows: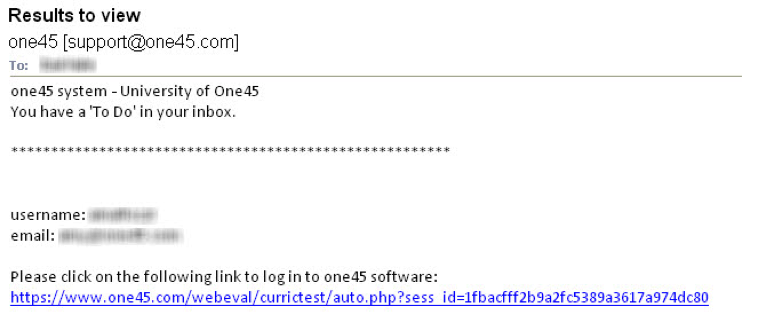 Step 2:
Once you click the link in the email, it will take you to the login page of One45. After you log in, go to your To Do's list where you can locate the report. See sample below: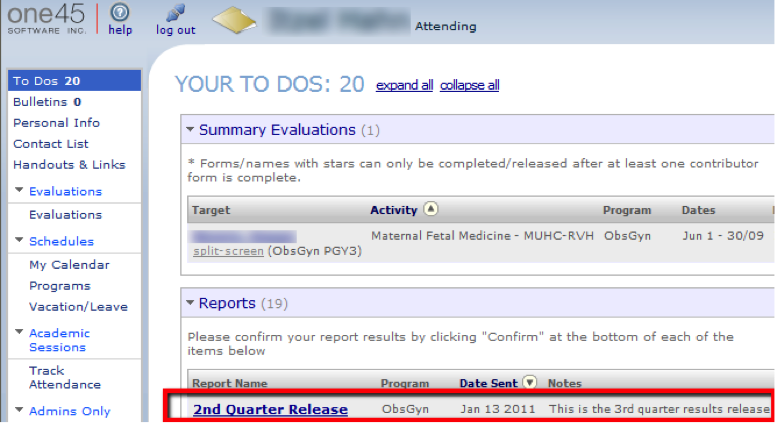 Step 3:
From there, you can open the report & view your results (see sample below).
Note the following:
The number of responses column represents the total number of times that specific question was answered
The score for column represents your average score on that question
The score out of column represents the max value of that particular question
question

 

number of responses

 

score for Doe, Jane

 

score out of

 

Reviewed objectives for the learning experience with me

 

8




 

3.42




 

5

 

Observed my performance

 

8




 

4.40




 

5

 

Probed my clinical reasoning

 

8




 

4.80

 

5

 

Provided me with timely and constructive feedback

 

8




 

5.00

 

5

 

Gave me responsibility appropriate to my level of competence

 

8




 

5.00

 

5

 

Created a collaborative teaching environment with learners and health professionals

 

8




 

4.80

 

5

 

Role-modelled compassionate patient-centered care

 

8




 

4.42




 

5

 

Overall, the instructor was an effective teacher

 

8




 

5.00

 

5

 
Please provide at least one constructive comment on your Teacher's strengths:
Please provide at least one constructive comment on how your Teacher can improve:
I can't think of anything as this was a great teacher.
Click OK, if you wish to remove the report from your inbox (this will move your report out of your inbox into the Results folder which is located under the Evaluations folder).
Click Cancel, if you wish to keep the report in your One45 inbox.
Click Print, to print the report if you wish to have a record of it.
Any past reports that have been released to you through One45 can be found via the RESULTS link, located under the Evaluations folder in your One45 e-dossier.
Trouble remembering your One45 log in credentials?
If you are having trouble accessing your One45 account, please follow the steps outlined below to retrieve your username and reset your password:
Go to

www.one45.med.ubc.ca

Choose the NEED HELP LOGGING IN link

Enter your email address on file with One45 (this would be the same email account that you might have received an email in from One45) 

The system will send you an email containing a username and link to reset your password. Click on the link to reset your password and complete the appropriate steps. 

Use the username and updated password to access your One45 account via the main login page

www.one45.med.ubc.ca
Should you encounter any other issues with your One45 account, please do not hesitate to contact the UBC administrative system support analyst at fomeas.support@ubc.ca 

Inappropriate Comments
At the beginning of each academic year students are oriented to this process and they are encouraged to provide objective and constructive feedback. If you receive any inappropriate comments please forward them to ta.support@ubc.ca