Details and registration information on upcoming Faculty Development events
2023 Annual Medical Education Day & 17th Dr. William Webber Lecture
This year's annual Medical Education Day was held on Friday March 3rd, in-person at the University Golf Club. The theme for the day was Teaching and Assessing Learners with Disabilities.
The event started with VFMP Teacher Certificate Program workshop on Assessment in the Undergraduate Medical Education Program facilitated by Linlea Armstrong, Rita Shah and Nawaaz Nathoo, followed by the Webber Lecture and related workshops.
The 17th William Webber Lecturer was Dr. Lisa Meeks from the University of Michigan Medical School and her talk was on Creating Inclusive Training Programs for Trainees with Disabilities.
After lunch, there were two concurrent workshops as follows:
"Debunking Myths; Technical Standards, and Case Law" (facilitated by Roslyn Goldner, Janet Mee & Kacey Krenn), and "What do Accommodations look like in the Real World?" (facilitated by Sarah Knitter & Brianna Higgins).
The day ended with a panel discussion and Q & A with panelists Dr. Lisa Meeks, Ms. Janet Mee, Dr. Hannah Carolan, Dr. Sarah Bartlett and Dr. Bonita Sawatzky.
We hope you all enjoyed the day as much as we did. It was great to learn and connect with our frontline teachers. Our faculty development team is working on finalizing the recordings of workshops and we will share these with those who were unable to attend soon!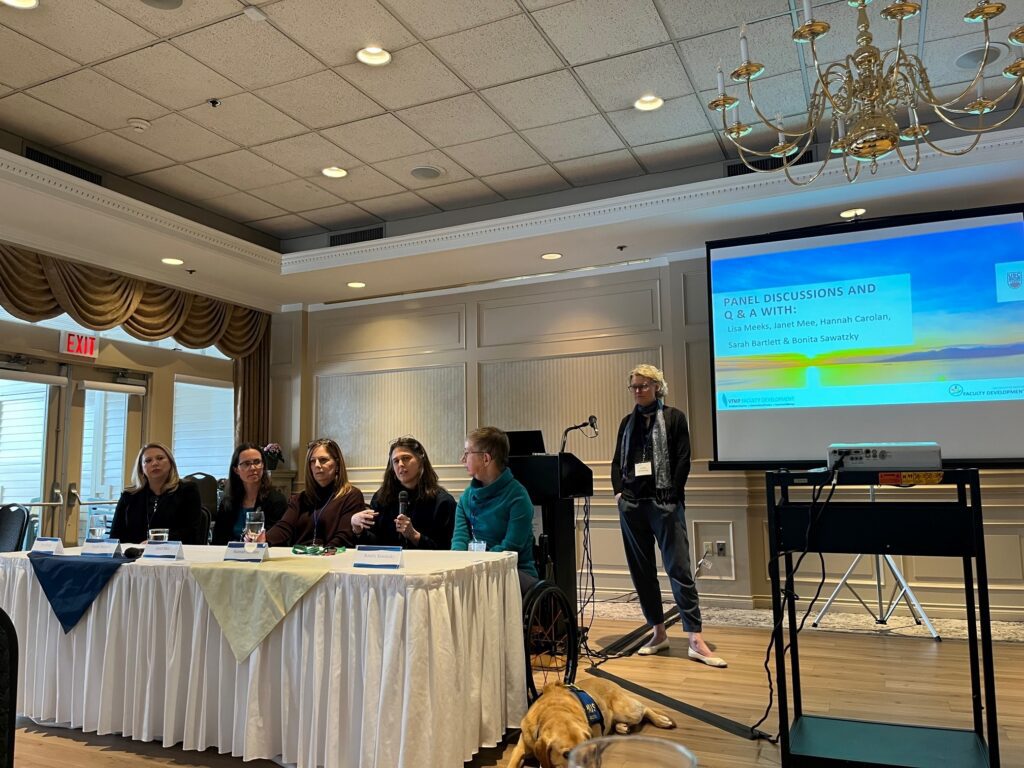 Residents are invited to attend the 
RaT topics
 virtually throughout the year. All residents are welcome to attend.
Topic: Patient Education
Date: Monday September 25, 2023
Time: 10:30-12:00 pm
Topic: Designing presentations for learning
Date: Tuesday October 31, 2023
Time: 3:00-4:30 pm
Topic: EDI (Anti-Oppression)
Date: Wednesday November 29, 2023
Time: 10:30-12:00 pm
Topic: Teaching clinical reasoning with collaborative questioning
Date: Thursday January 25, 2024
Time: 3:00-4:30 pm
Topic: Supporting the learner in difficulty
Date: Thursday March 7, 2024
Time: 10:30-12:00 pm
Topic: Teaching procedural skills
Date: Thursday April 11, 2024
Time: 3:00-4:30 pm
CAME Webinars
The CAME webinar series is designed to bring practical, evidence- and experience based advice to Canadian health educators. The webinars offer an exciting opportunity to engage online with an expert and with colleagues in a live discussion on a key topic in medical education. In order to register, you need to be affiliated with UBC.
Accreditation Information: Earn up to 11 certified Mainpro+® credits or Royal College of Physicians and Surgeons of Canada Section 1 credits. The total hours (11.0) is for the entire series. Each webinar is 1.0 Section 1 hour/1.0 CFPC Mainpro+ credit/per hour.
Recording: If you have missed a webinar session, email Faculty Development and request the recording of the missed webinar.
Upcoming 2023-24 Webinar Topics and Registration below: 
Title: TBA
Date: Thursday October 19, 2023
Presenter: TBA
Time: 12:00-1:00 pm (PST)
Title: Up Close with Senator Flordeliz (Gigi) Osler (Special Event)
Date: Wednesday October 25, 2023
Presenter: Flordeliz (Gigi) Osler
Time: 9:00-10:00 am (PST)
Title: Coaching PD's, the CEOs of our Education Programs
Date: Tuesday November 7, 2023
Presenter: Dr. Anne Matlow, University of Toronto
Time: 12:00-1:00 pm (PST)
Title: Using Systems Thinking to facilitate change in Medical Education
Date: Tuesday December 12, 2023
Presenter: Dr. Keith Wilson, Dalhousie University
Time: 9:00-10:00 am (PST)
Title: Mentorship
Date: Wednesday January 24, 2024
Presenter: Dr. Laura Foxcroft, Western University
Time: 12:00-1:00 pm (PST)
Title: Disability and Medical Education
Date: Wednesday February 21, 2024
Presenter: Dr. Quinten Clarke, University of British Columbia
Time: 9:00-10:00 am (PST)
Title: Teaching Wisely
Date: Tuesday March 26, 2024
Presenter: Dr. Guylène Thériault, McGill University
Time: 12:00-1:00 pm (PST)
Title: Selection into Residency
Date: Wednesday April 25, 2024
Presenters: Dr. Michelle Morros, University of Alberta and Dr. Keith Wycliffe Jones, University of Calgary
Time: 12:00-1:00 pm (PST)
Title: Taking The Weather Into Account: Supporting Learning And Performance In Emotional Settings
Date: Tuesday May 28, 2024
Presenter: Dr. Vicki LeBlanc, University of Ottawa
Time: 12:00-1:00 pm (PST)
Title: Social Responsibility 
Date: Tuesday June 25, 2024
Presenter: Dr. Timothy Dubé, Université de Sherbrooke
Time: :12:00-10:00 pm (PST)